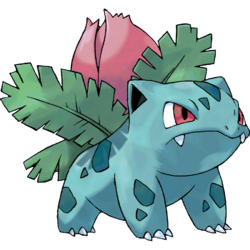 Ivan is a 17 year old Ivysaur. He belonged to a rich family before transforming, and was friends with Austin Ruso and Nick Gregory. All he really wants to do is start a band and sing. He goes to Long Island base and is in room 139, Sakato's old room.
Stun Spore: Ivan sprays out stunning yellow powder at his enemies, paralyzing them.
Poison Powder: Ivan shoots out a poisonous purple powder to inflict enemies with a toxin.
Vine Whip: Ivan uses vines that grow from his bulb to whip the enemies.
Bullet Seed: Ivan shoots many seed in rapid succession to hit an enemy.
Combo Moves
Edit
Poisoned Bullets: Ivan covered his seeds in the poisonous powder to inflict poison damage.
Ivan is Sakato's replacement in Long Island Base. While he knows who he is, he has yet to meet him. It has been confirmed that they will in a later chapter, however.